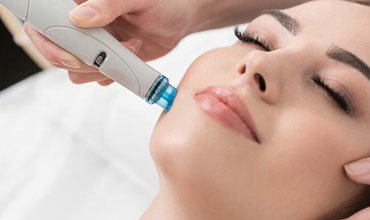 Pro Hydrafacial Treatment is now available at F&G Cosmodental in Gulistan e Johar.
Hydra facial is a medical hydra dermabrasion device that carries out a three-part regimen.
This three-part regiment is based on cleansing, exfoliating, and lastly, infusing skin with intensive serums.
It is one of the state-of-the-art machines, allowing a glorious facial and has become the epitome of global skincare. 
The treatment starts with cleansing and removing excess sebum and dead skin cells.
It is followed by  hydra dermabrasion, which is gentle exfoliation with the help of water and oxygen.
The skin is flushed out and blackheads and whiteheads, dirt, and oil are removed.
Finally, anti-aging and nourishing serums are applied to the skin.
What are the benefits of a Hydra facial?
Clears complexion
Removes impurities and blackheads
Hydrates and nourishes the skin
Reduces fine lines and wrinkles
Removes spots and pores
Increases tone and texture of skin