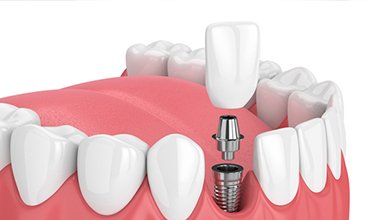 The Dental Implant is a titanium post, positioned in the bone below the jawline where the tooth root was present. We fix the replacement tooth/ bridge on this post.
Maintenance of implants is more straightforward than a bridge, as it mounts on the post rather than taking support from adjacent teeth. For implants, it is mandatory to have healthy gums and sufficient bone to hold the position.
 If the bone is not enough/ or very thin, we usually place a bone graft. In the Maxillary/upper arch, if the bone thickness is less and post when placed is very near sinus, we perform sinus lift procedure. The Oral surgeon guides the patient before the process and explains the requirements. We deliver the Implant placement complete process under local anesthesia.
Once we place the post in the bone, it fuses with the bone with time, and Implant is fixed on it after 3 to 6 months once the healing is complete.