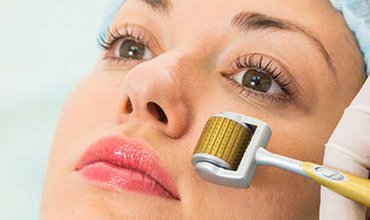 Microneedling is a new cosmetic approach to deal with different skin problems.
The device consist of very fine short length needles, which are inserted to heal  the skin superficially.
As the tiny needles are placed in the skin, it stimulates collagen and elastin production.
This enhances new cell growth and helps in skin rejuvenation.
Since, the needles are so small that you may even notice the pricks in skin after the treatment as well.
Usually, doctors uses a topical aesthetic cream  before the procedure to reduce the chances of pain.
Also, it's a less expensive procedure than any other treatments and produces even better results.
Microneedling can be used to treat/improve:
Wrinkles and fine lines

Acne scars

Melisma

Pigmentation

Blackheads and uneven skin texture

Uneven skin tone

Stretch marks

 
After Care Of Microneedling
After Microneedling treatment, it's important to avoid skin products that contain harsh chemicals.
Such as, skin cleansers, serums, beauty creams, or any makeup products.
Because during the first few days, the skin pores are quite sensitive
Therefore the pores may attract any kind of harsh chemicals very easily.
Avoid going into direct contact with heat.
Before touching your face, you must wash your hands.
Moreover, do apply sunscreen whenever going outside.
One session takes 20 to 30 minutes.