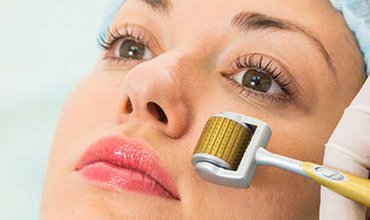 Microneedling is a relatively newer approach for a lot of skin problems. Microneedling devices consist of very fine short length needles, which are inserted in the skin superficially.
As the tiny needles are embedded in the skin, it stimulates collagen and elastin production. This enhances new cell growth and helps in skin rejuvenation.
The needles are so small that you might even notice the pricks in the skin after the treatment. Usually, a topical anesthetic cream is applied before the procedure to reduce the chances of pain.
Microneedling can be used to treat/improve:
Wrinkles and fine lines

Acne scars

Melisma

Pigmentation

Blackheads and uneven skin texture

Uneven skin tone

Stretch marks
Total time of procedure:
One session takes 20 to 30 minutes.