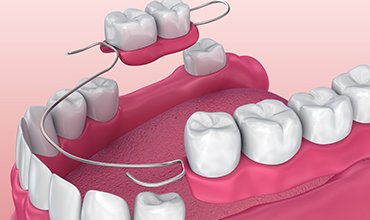 A partial denture is a device to replace one or more teeth in a partially edentulous patient.
Tooth loss depresses the patient, as does the decreased ability to chew and eat. 
Which is why most of the patients do suffer from nutritional troubles because of the inability to eat properly.
After analyzing the situation, the dentist will recommend you partial dentures because this is not the only solution for teeth replacement.
Do not try to make changes to your dentures because these are very sensitive devices and needs extreme care to handle.
Hence, a partial denture is often the mode of replacement of teeth and restores the patient's confidence and smile!
The material used is acrylic, which comes in many shades such as pale whitish.
Original tooth-colored material acrylic teeth fixed on a pink, mucosa like an acrylic tray to match the soft tissue.
The denture needs to be removed regularly after meals and cleaned thoroughly with a soft toothbrush and soap.
It also needs to be removed at night before sleeping.
Denture care and hygiene are essential if you want to keep your mouth healthy and free of any possible infections.
When should I consider a partial denture treatment?
If you have one or more teeth missing (but not all), please consider getting a partial denture, which is less visible in the mouth and restores your chewing capability.
A person should not wear their partial dentures for 24 hours.

Brush your dentures with a soft denture brush.

Keep dentures in a denture solution when not wearing.

Keep following regular appointments with your dentist.